7 photos; 0:38 video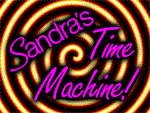 November 30, 2010
Thanks to my tech department (more on that later), I have a special treat for you all! This is the first video and photos I ever took with Sara Nychols way back in 1999-2000. Sara has now long-since retired from the online bondage world, but I hope you like her and me in bras, panties, pantyhose and a lot of rope sharing some struggles on a leather sofa. I Enjoy this trip down bondage-memory lane! Look for more re-discovered bondage goodness from the early days coming soon!! (wow, I had some long bangs and fluffier curves back then!)

Background: As some of you may remember, back in 2003 I had a massive computer virus that not only grocked my computer, but most of my backup drives as well. In the process I lost a lot of photos and videos of me and my friends from the "early days" of bondage online. Thanks to my fantastic new tech department, we have been able to recover a lot of that content, and also a huge treasure trove of raw video from that era. That means that a lot of my videos from my site's 1999-2003 days can be remastered into newer, higher resolution videos! Look for more of them coming soon!